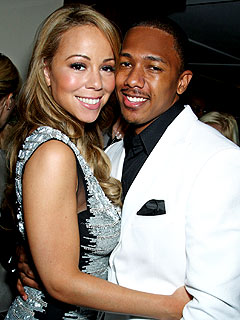 Cafeteria Lady entertainment blog contributor Angela Grammer knows that the stars aren't so different from the rest of us--they could use some of the plainspoken wisdom shared in families across America and the world. Today, Angela shares her heartfelt advice for Mariah Carey and Nick Cannon.
Dear Mariah & Nick,
My heart is heavy as I read that Nick has confirmed that, yes, the rumors are true: after six years of marriage, the two of you have
decided to divorce
. I know that it is a difficult time for you, and for your entire family, but I hope you will have a moment to hear my heartfelt words for you.
It is especially sad to see the end of marriage between two people who have seemed so devoted to one another, so in love. All of America remembers how we rejoiced just three years ago when you welcomed your precious twin children into the world. And, Mariah, when
you kept a vigil by Nick's side
as he suffered from kidney failure, it was the kind of loving, caring behavior that every spouse should live up to.
Now, the waggling tongues of Hollywood say that cheating is tearing the two of you apart, and that Nick has made matters worse by telling stories in public that are just too, too public. I've known many couples hurt by these issues over the years. Some of them survive the challenge, but others do not.
Bonnie Fuller suggests you stick it out.
Maybe that could work. But nobody except you--not Bonnie, not me--knows what goes on when you two are behind closed doors.
So, Mariah and Nick, my advice is this: only you two really know if this marriage can be saved. And I beg of you to make sure the decision is right. But don't do it for me, for your heartbroken fans around the world, or even for yourselves. The ones you need to be thinking about now are your children.
My heart is with you at this tender time. --Angela Grammer